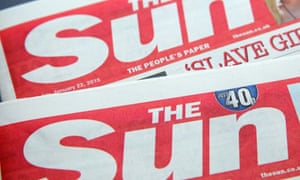 The Sun has been ordered to print a statement acknowledging that its claims that one in five British Muslims supported people who have gone to Syria to fight for jihadi groups such as Islamic State were significantly misleading.
The Independent Press Standards Organisation (Ipso) said a front page article from 23 November last year – as well as more coverage inside the paper – misrepresented the results of the poll on which they were based because the relevant question in its poll did not support the claim.
Respondents were asked to what extent they had sympathy with "young Muslims who leave the UK to join fighters in Syria", rather than with those who went to fight with Isis or any other Islamist group.But, while Ipso upheld the complaint it investigated, the paper was spared having to print notice of the adjudication on its front page.
The watchdog said the newspaper had agreed to publish the notice on page two of Saturday's edition, having been ordered to place it no further back than page five.
"While the newspaper was entitled to interpret the poll's findings, taken in its entirety, the coverage presented as a fact that the poll showed that one in five British Muslims had sympathy for those who left to join Isis and for Isis itself," Ipso said."
In fact, neither the question, nor the answers which referred to 'sympathy', made reference to [Isis]. The newspaper had failed to take appropriate care in its presentation of the poll results and, as a result, the coverage was significantly misleading."
Source: Sun ordered to admit British Muslims story was 'significantly misleading' | Media | The Guardian