Category:
Pet Hates….
Anti-muslim or pro women!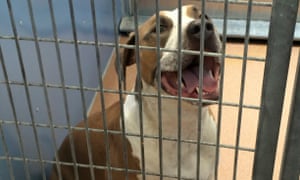 A pit bull terrier crossbreed dog lying in bed with a San Diego couple bit and killed their three-day-old son when it was startled awake.
The parents had been watching television at the time with their newborn and the 44kg (97lb) American Staffordshire terrier-Great Dane mix was lying with them, said Sergeant Tu Nguyen of the San Diego police child abuse unit.
"The mum coughed unexpectedly and it startled the dog, which bit the baby, causing traumatic injury," said Nguyen, whose unit investigates the death of any child.
"The parents were able to separate the dog from the baby and they rushed him to the hospital but they were not able to save him."
Nguyen declined to say where the baby was injured and said police were waiting for the medical examiner's report on the exact cause of death.
The dog was taken into custody by San Diego county animal services, officials said. Any dog that bites a person is placed in quarantine by animal control, said Dan DeSousa, deputy director of the agency.
DeSousa said the family could direct animal control to euthanise the dog or they could claim the dog at the end of a 10-day quarantine, but the agency had not yet received any instructions.
The American Staffordshire is one of a number of pit-bull dog breeds recognised as dangerous and subject to various breeding and ownership restrictions in different parts of the world.
Source: Pit bull kills newborn baby in bed | US news | The Guardian
The Prime Sinister quietly announced a new bonus scheme worth thousands of pounds for top civil servants.
Senior Officials will be in line for 'on the spot' bonuses of up to £5,000 to recognise "outstanding contribution" to Government departments.
The top-ups will be doled out to the 10% highest performing officials working for Government departments.
A spokesperson for the Cabinet Office said the money for the new bonus scheme will come from the existing civil service budget, but can be paid at any time through the year.
Source: 4 bits of bad news the Tories sneaked out while everyone was watching the Queen's Birthday – Mirror Online