Category:
Greed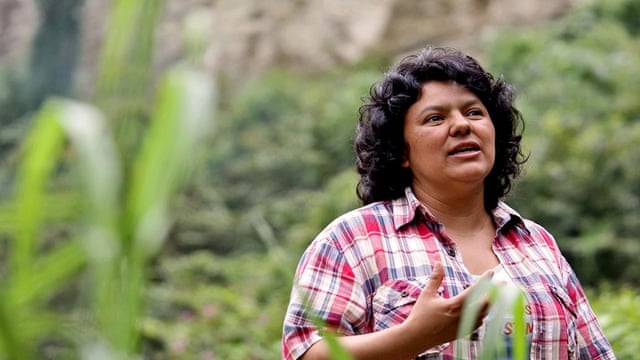 In her final days, Berta Cáceres was bombarded with texts and calls warning her to give up the fight against the Agua Zarca dam, or else.
The Honduran indigenous leader told trusted friends and colleagues that some of the death threats were from a suspected sicario – or hitman – who was terrorizing community members near the dam and openly boasting of his intention to kill her.
Cáceres started making arrangements to move from her isolated bungalow on the outskirts of the city of La Esperanza to a bustling lodging house run by her organisation, the Civic Council of Popular and Indigenous Organizations of Honduras (COPINH), where she wouldn't be alone.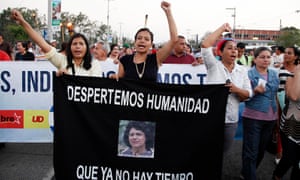 The day before she was murdered, Cáceres took her youngest daughter to the airport. As they hugged goodbye, she whispered a final piece of advice. "She told me: 'If something happens to me, don't be scared,'" Laura Cáceres, 23, told the Guardian.
Around lunchtime the following day, Cáceres stopped to sign some cheques at COPINH's women's centre, where she told Lilian Esperanza, a longtime friend and the group's financial coordinator, to plan for her not being around. "She wanted to change the rules so someone else could sign checks. She was worried about being murdered or imprisoned," said Esperanza. "'I keep reporting the threats, but no one pays attention,' she told me."
Less than 12 hours later, Cáceres was shot dead in her home. Her friend Gustavo Castro, coordinator of Friends of the Earth Mexico, was injured in the attack but survived by playing dead.
Despite the evidence that she had been targeted because of her campaign against the dam, police treated three of her closest colleagues – Castro and two members of COPINH – as the prime suspects.
"My daughter was systematically persecuted for years, but still, I didn't believe they would actually kill her," said Berta Flores, 83, sitting next to the candlelit altar adorned with fresh flowers and photographs.
"She worked frantically in the days before she was killed. It's as if she knew time was running out."
Cáceres was buried on 4 March on what would have been her 45th birthday.
Source: 'Time was running out': Honduran activist's last days marked by threats | Global development | The Guardian