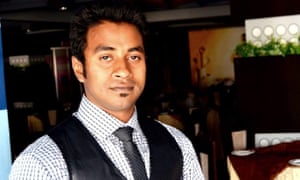 A Bangladeshi law student who criticised Islamism on his Facebook page has been murdered, police said on Thursday, the latest in a series of killings of secular activists and bloggers in the country.
Nazimuddin Samad, 28, had been on a hit list of 84 atheist bloggers that a group of radical Islamists drew up and sent to Bangladesh's interior ministry.
"At least four assailants hacked Nazimuddin Samad's head with a machete on Wednesday night. As he fell down, one of them shot him with a pistol from close range. He died on the spot," deputy commissioner of Dhaka Metropolitan police Syed Nurul Islam told AFP.
"It is a case of targeted killing. But no group has claimed responsibility," Islam said, adding police were investigating whether Samad was murdered for his writing.
The Dhaka Tribune said the assailants shouted Allahu Akbar (God is greatest) as they attacked Samad on a busy road near Dhaka's Jagannath University, where he was a law student.
Source: Secular activist who criticised Islamism hacked to death in Bangladesh | World news | The Guardian