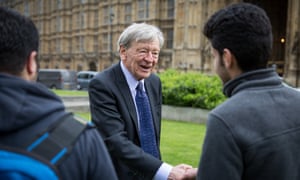 A high-profile campaign for the UK to accept 3,000 child refugees stranded in Europe has failed after the government narrowly won a vote in the House of Commons rejecting the plan.
MPs voted against the proposals by 294 to 276 on Monday after the Home Office persuaded most potential Tory rebels that it was doing enough to help child refugees in Syria and neighbouring countries.
The amendment to the immigration bill would have forced the government to accept 3,000 unaccompanied refugee minors, mostly from Syria, who have made their way to mainland Europe.
It originated in the House of Lords after being introduced by Alf Dubs, a Labour peer who was a beneficiary of the Kindertransport, the government-backed programme that took child refugees from Germany in the run-up to the second world war.
Following the vote, Labour vowed to continue its efforts to make the government change its mind, tabling a new amendment in the House of Lords asking it to accept a specified number of child refugees from Europe after consultation with local councils.
The Home Office successfully saw off the Dubs amendment in the Commons after arguing it would act as an incentive for refugees to make the dangerous Mediterranean crossing to Europe.
James Brokenshire, a Home Office minister, said the government could not support a policy that would "inadvertently create a situation in which families see an advantage in sending children alone ahead and in the hands of traffickers, putting their lives at risk by attempting treacherous sea crossings to Europe which would be the worst of all outcomes".
The amendment was backed by Labour, the SNP and Liberal Democrats.
Source: Tories vote against accepting 3,000 child refugees | World news | The Guardian