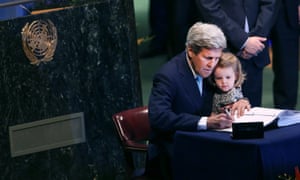 Representatives of more than 170 countries endorse Paris agreement to cut carbon emissions, with France's president saying: 'There is no turning back'
More than 170 governments declared an end to the fossil fuel era on Friday, using the signing ceremony for the landmark Paris agreement as an occasion to renew their vows to fight climate change.
The outpouring of support – the largest ever single-day turn-out for a signing ceremony – underscored strong international commitment to deliver on the promises made in Paris last December to avoid a climate catastrophe, the leaders said.
The UN secretary general, Ban Ki-moon, said signatories to the deal were embracing "a new covenant of the future". Leonardo DiCaprio, a UN climate ambassador, likened efforts against climate change to the campaign to end slavery.
Hindou Oumarou Ibrahim, an indigenous women's leader from Chad, called on countries to following through on their promises. Temperatures in her country were already a blistering 48C (118F), she said, and climate change threatened to obliterate billions spent on development aid over recent decades.
"Climate change is adding to poverty every day," she said.
Friday's gathering was entirely ceremonial, with schoolchildren and brass bands filling out the UN hall, and John Kerry, the secretary of state, toting his granddaughter in his arms when it came his turn to sign the agreement.
But the turnout – including the presence of about 60 presidents and prime ministers – and stirring rhetoric were seen as an important measure of the momentum behind efforts to bring the Paris agreement into force earlier than originally thought, possibly even this year.
Leaders also reaffirmed previous commitments to help poor countries protect their people from climate change.
Source: World governments vow to end fossil fuel era at UN climate signing ceremony | Environment | The Guardian