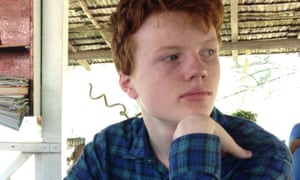 A 16-year-old blogger who wrote candidly about having terminal cancer has died.
Max Edwards penned a blog called The Anonymous Revolutionary centred on modern Marxism, which later formed the basis of a book of the same name.
Last week, in a moving, bluntly honest article for the Guardian he wrote about how he had been diagnosed with terminal cancer five months ago, observing: "It doesn't really change anything important." On Saturday, a week after the article was published, he died.
On Sunday, his parents, Dan and Jenny, posted a tribute on their son's blog. It read: "Writer, Philosopher, Thinker, Musician, Artist. The Anonymous Revolutionary – Max Edwards, our son – died on 26th March 2016, age 16. He loved writing this blog and sharing his ideas with you. In the later months of his life in particular it was a great source of comfort to him. Thank you all for your support. Thank you all for making a young revolutionary very happy. Dan & Jenny x"
Source: Marxist blogger who wrote about his terminal cancer dies aged 16 | UK news | The Guardian